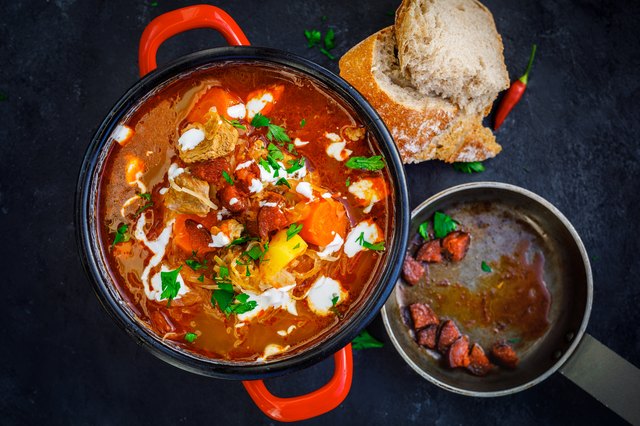 Plant-based dinner recipes don't have to lack protein.
Image Credit: zozzzzo/iStock/GettyImages
Switching up your weeknight routine with plant-based dinner recipes can help you get more micronutrients in your diet thanks to all those veggies. Not only that, but you can still get enough protein.
Plus, adding more plant-based dinners and meals to your weekly menu is linked to a reduced risk of getting certain cancers and heart disease, according to an August 2019 study in the ​Journal of the American Medical Association Internal Medicine​ (JAMA)​.​
Jump on the bandwagon with these hearty and satisfying high-protein plant-based dinner recipes that may convert even the most committed carnivores.
Want more healthy recipes? Download the MyPlate app and get simple, tasty meals and snacks tailored to your nutrition goals.
1. Slow Cooker Vegan Chili
You won't miss the meat in this fulfilling plant-based chili.
Image Credit: My Nguyen/LIVESTRONG.COM
There's nothing quite as comforting as a warm bowl of slow-cooked chili. Equipped with black beans, pinto beans and lentils, this hearty, plant-based chili boasts an all-star ingredient list of heart-healthy, fiber-filled legumes.
The best part is, one serving only has 2 grams of fat — nearly five times less fat than your average portion of beef chili.
Tofu replaces eggs in this veggie scramble.
You'll love this recipe if you're a fan of breakfast for dinner! Loaded with veggies, this spicy, dietitian-crafted tofu scramble gives a little heat thanks to a dash of medium-hot curry paste. We promise you'll never miss the eggs.
3. Grilled Vegan Pesto 'Burgers'
Meaty Portabella mushrooms replace beef in this nutritious veggie burger.
Image Credit: EzumeImages/iStock/GettyImages
Thanks to the rising popularity of Impossible Foods and Beyond Meat, you've probably heard a lot of hype about veggie burgers (and may have even jumped on the meat-free burger wagon). With wholesome, fresh ingredients, this homemade plant-based Portabella patty skips all the processed junk and replaces it with actual veggies.
Plus, it's seasoned with a deliciously fresh basil pesto sauce to boot.
Tofu makes the perfect protein-rich filling for these plant-based tacos.
Image Credit: LIVESTRONG.com
With a tofu base, this taco salad may skimp on the meat but not the spice or the flavor with traditional Mexican seasonings like cumin, chili powder and salsa. Swap in soy or almond yogurt for sour cream and squeeze a little lime on top for the perfect Picante finish.
5. Tricolor Tofu Stir-Fry
Toss a little tofu and veggies together to round out this simple stir-fry.
Image Credit: LIVESTRONG.com
This tricolor tofu stir-fry creates a rainbow of colors on your plate with vitamin-packed veggies like bright red and yellow bell peppers and vibrant green baby spinach. More than just pleasing to the eye, it's a party for your palate thanks to an Asian-inspired dressing made with tangy tamari and spicy ginger and red pepper flakes.
6. Vegan Chili Baguette 'Boat'
Plant-based chili pairs with a crunchy baguette for the perfect comfort food.
Image Credit: Jackie Newgent/LIVESTRONG.com
This four-ingredient crunchy baguette boat makes a delicious plant-based dinner, and it has an impressive 18 grams of protein and is a cinch to make. Since the recipe calls for store-bought vegan chili, you can literally toss this together in under two minutes — no utensils required.
7. Vegan Margherita Thin-Crust Pizza
Pizza lovers will adore this plant-based thin-crust pie.
Image Credit: LIVESTRONG.com
Plant-based pizza — mamma mia! Made with fiber-rich whole-wheat dough, this thin-crust Margherita pizza will keep your belly full while crushing those takeout cravings. Top it with shredded almond-based cheese that perfectly melts into a stringy mess — even mozzarella lovers won't be able to tell the difference.
8. Bunless Red Beet Burgers With Arugula and Goat Cheese
Beet burgers make a nutritious plant-based dinner option.
Image Credit: LIVESTRONG.com
Unlike other"fake meat" burger options, these beet burgers are made with plant ingredients: The patties are full of real, nutritious foods such as kidney beans, mushrooms, brown rice, beets and hemp seeds.
Beets have a unique plant compound called betaine, which has been shown to lower homocysteine levels, a marker linked to heart disease. Supplementing with betaine over the course of six weeks significantly reduced homocysteine levels, a March 2013 meta-analysis in the ​Journal of Chiropractic Medicine.​
9. Gingery Asian-Inspired Tempeh, Broccoli and Rice Soup
This soup includes a secret satiating ingredient.
Image Credit: LIVESTRONG.com
You probably won't miss the meat with this one — tempeh steps in giving some texture to the soup while the vegetable broth with soy sauce gives it an umami flavor.
ICYMI: Tempeh is a fermented soy product that packs more protein than tofu and also provides you with a good amount of calcium and gut-healthy prebiotics. With 19 grams of protein and 8 grams of fiber, you're sure to get your fill from this hearty plant-based dinner recipe.
10. Plant-Protein-Powered Mac and 'Cheese'
Nutritional yeast and butternut squash give this a creamy "cheesy" taste you'll love.
Image Credit: LIVESTRONG.com
This recipe is not only plant-based, but it's also completely dairy-free, thanks to the butternut squash and nutritional yeast, which creates a nice base for vegan cheese.
Nutritional yeast is an inactive form of yeast (as in it won't help your bread rise) called Saccharomyces cerevisiae, according to the International Food Information Council Foundation. Two tablespoons of nutritional yeast provide 5 grams of protein, 2 grams of fiber and thiamin, niacin, pantothenic acid, vitamin B6 and folate.
This recipe includes chicken broth, but you could easily use vegetable broth to make this a 100 percent plant-based recipe.
11. Vegan Paleo Rainbow Carrot Poke
Paleo and vegan poke that delivers on protein and taste.
Image Credit: LIVESTRONG.com
This rainbow carrot poke also happens to be high in protein thanks to the sea beans and sesame seeds.
Sea beans are grown in coastal areas (they aren't actually seaweed) and can be grown using seawater to irrigate. What's unique about them as a plant is that they're high in protein, including a substantial amount of essential amino acids, along with many minerals including potassium, magnesium, calcium, iron and phosphorus, according to an April 2010 analysis in ​LWT-Food Science and Technology​.
This plant-based dinner recipe can be made in as little as 10 minutes.
Image Credit: LIVESTRONG.com
Consider this the perfect solution to an easy dinner that still delivers a healthy meal. And half-homemade is just that — pump up a serving of canned vegetarian chili by adding green peppers and chopped cashews and, voila, dinner is served.
This plant-based recipe has 20 grams of protein and takes 10 minutes to prepare, so it's perfect for a busy weeknight dinner. It also has 11 grams of fiber thanks to the beans in the canned chili. This is especially important: On average, we're only eating 16 grams of fiber a day, according to the USDA, which is a far cry from the recommended 25 to 38 grams per day.
Eating enough fiber can help you manage your weight, reduce your risk of heart disease and type 2 diabetes and keep your digestion regular.